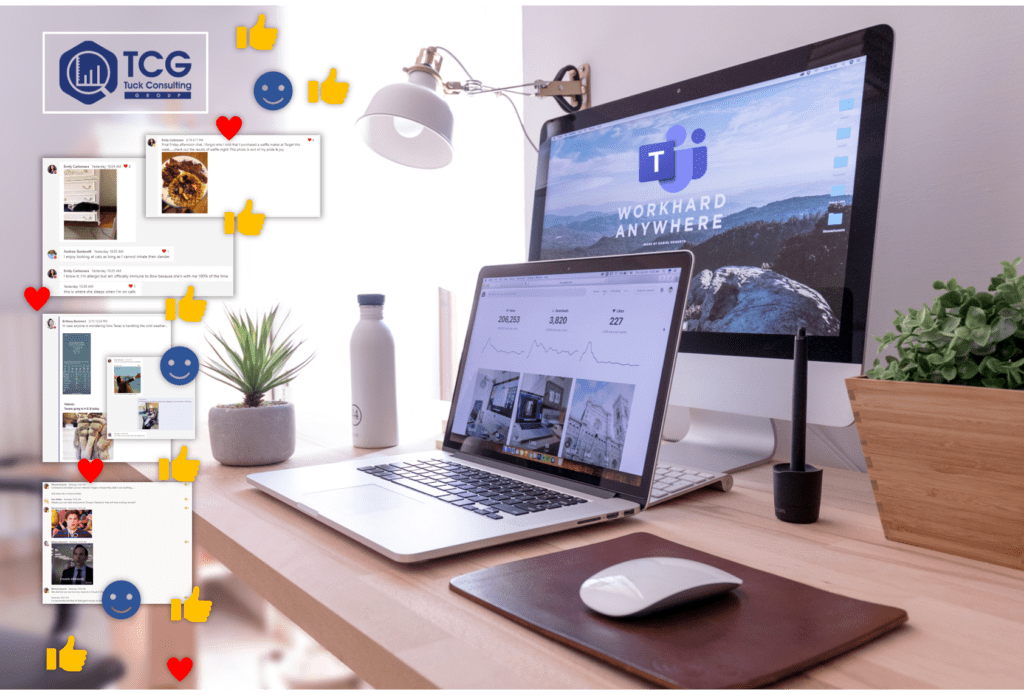 Sam Walker, Chief Innovation Officer for Alima Technologies posted on LinkedIn about the "need to have a more intentional and deliberate approach to defining and growing the culture and providing opportunities for team members to bond." He went on to say that one of the difficulties in organically facilitating good, now virtual, company culture is "there is no water cooler to chat around. There isn't the "How was your weekend?" on your way to a meeting. These are the things that had the ability to naturally build camaraderie and drew the team closer together." and are now missing in many ways.
Sam, as CIO with Alima , is an executive teammate to TCG's Managing Principal, Alex Tuck, who serves as the VP of Customer Success for Alima . While they work together creating solid CRM solutions for their clients at Alima, they also share the common passion for workplace culture. Always recognizing new accomplishments and goal setting (both personal and professional) each company strives to engage with their employees in a way that goes beyond simple day-to-day work. They share the belief that engaged employees create the culture that successful companies thrive on for sustained growth.
At TCG we have multiple lines to connect on a more personal level with our clients and consultants. In lieu of the face-to-face interactions, we have co-working sessions that allow us the ability to collaborate freely, converse about where the topics lead us, and generally enjoy work time together. No agenda, video or RSVP needed – just optional time slots booked by discipline to open the door for camaraderie in workdays.
Aside from our regularly scheduled virtual co-working, TCG utilizes Microsoft Teams to create specific channels to highlight what we would miss out on if we were in person. Internally, our leadership team shares updates throughout the week with two designated standup sessions to highlight all "happenings" for each member. Conversations like "made progress with project plan build out, on track with project completion and this weekend I am planning a trip to the beach with my family". Our Teams channels allow us to not only have the virtual stand ups, but also share along photos of what we are doing in our work and personal days – wherever that may be. TCG created a Microsoft Teams channel specifically for "Fun & Unimportant" posts give all employees and active consultants an outlet or new way to communicate and share. See some of our best shares in the graphics provided.
Remote work has had its trials and errors and has matured over the last year most were dropped in to it. For many, this has been a great reset into how we choose to communicate and grow our teams and company culture. Being intentional with asking how everyone is doing, giving an outlet to hear and share more, encouraging the camaraderie in the new way we are functioning – is the key.
Let us recreate a better kind of watercooler and take this opportunity to make workplace communications more engaging. Let us share more about what is happening in your life that is so positive you want your team to celebrate with you, and less about the stresses of only what is going on in the office as you pass each other in the hall. Let us use the new virtual tools we have been operating with for producing good work as an opportunity to actually make water cooler conversations great again.
Highlights from TCG Teams